---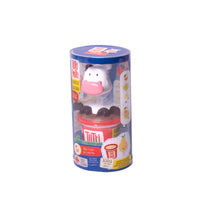 Sale
The "BUDDIES" COW SINGLE TUBE set makes modeling dough creation easy for the little ones. It's simple, you only need to mold the dough and plug in the "Buddies" parts to create a lovely character at a glance.
SMALL BOXES, BUCKETS AND TUBES - BUDDIES
CONTENT
2 plastic plug-in "Buddies" cow parts (head and legs)
1x 100g (3.5 oz)tub  of Tutti Frutti scented modeling dough (white – pear).
Ref: BJTT13104
Age 3+