---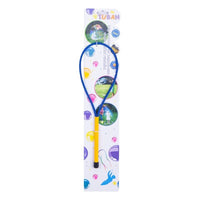 Introducing Tuban Bubbles!  Soap Bubble Ring! 
Assorted colours
FROM TUBAN:
If you want to give your children active fun in the open air - we invite you to us :)
If it is about soap bubbles - we are real experts.
Our bubble ring is small enough that can be handled by any child
and big enough to create bubble tunnels without any problems.  
Use it and see what happens
The ring is one of the main accessories in our bubble laboratory,
where we carry out a series of bubble experiments.
It is also very helpful in speech therapy games - by blowing bubbles, children practice the speech apparatus.

Our ring:
- consist of a handle made of plastic and a rim coated with absorbent material (rim circumference is 50 cm);
- is sold in a wide range of colors;
- is 34 cm high;
- it will allow you to create bubble tunnels and many more;
- use small amount of liquid;
- made in Poland.

Tuban is the best soap bubble liquid in the world and holds two Guinness world records for the largest number of people in one bubble (182 people) and the most number of bounces of one soap bubble.


Made in the EU.