---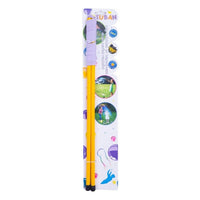 Introducing Tuban Bubbles!  Giant Bubble Wand! 
Assorted colours
FROM TUBAN:
GIANT BUBBLE WAND (50 CM)

Our wand is like a magic one - in a moment it will allow you to conjure up an amazing world full of giant,
rainbow bubbles. It will delight all children and remind adults of their youthful times.
If you want, we will teach you how to make bubble tunnels and big soap bubbles in a few minutes. 
You will need a good quality liquid (for making big soap bubbles) and wand hanging from two handles.
Let's go!
Dip the wand in liquid and when you will see bubble sheet on the string,
you can start making bubbles with a gentle hand movement. Only or so much.
You can trust us, because soap bubbles are something we know very well 

Our wand for making big bubbles:
- is used to create bubble tunnels and bubbles of impressive size;
- is sold in a wide range of colors;
- has a maximum span of 200 cm;
- has handles 50 cm high;
- it's perfect for both amateur and professional bubble makers;
- use small amount of liquid;
- is made in Poland.


Tuban is the best soap bubble liquid in the world and holds two Guinness world records for the largest number of people in one bubble (182 people) and the most number of bounces of one soap bubble.


Made in the EU.