---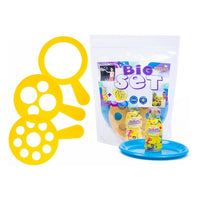 Sale
Introducing Tuban Bubbles!  Big Set! 
Assorted colours
FROM TUBAN:
BIG SET TUBAN
The BIG SET set is our next offer addressed to the youngest bubble makers. 
But not only... It can be successfully used by all lovers of bubble adventures 
With the help of the BIG SET set you can move into an amazing
and magical world of soap bubbles in a moment.
 Each set includes 3 different rings and our branded liquid.
 If you use it, each of your bubbles will arouse admiration and delight.
This is not a coincidence. You can see for yourself...
Our set includes:

- 3 different, round rings with which you will be able to create beautiful and unique soap bubbles;
- a plastic plate into which you pour the liquid;
- 250 ml of liquid based on a unique recipe.

Tuban is the best soap bubble liquid in the world and holds two Guinness world records for the largest number of people in one bubble (182 people) and the most number of bounces of one soap bubble.


Made in the EU.