---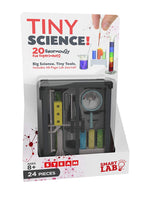 Sale
Tiny Tools. Real Science.
Seriously Small Science

SmartLab's Tiny Science is a miniature working lab with real precision instruments, including a funnel, petri dish, beaker, Erlenmeyer flask, magnifier, test tube, pipette, graduated cylinder, measuring scoop, balance scale, and 3 gram weights. These teeny tiny tools are housed in a miniature cabinet, making Tiny Science perfect for on-the-go fun!

Enormously Fun Experiments!

What happens when you add a drop of vinegar from a tiny pipette to a teeny test tube full of soda? What's the smallest ball of slime you can make? Are there micro messages hidden on the dollar bills in your pocket? Find the answers to these questions and more with Tiny Science!

STEAM Focus: Science

Tiny Science allows kids to perform precision science experiments on a miniature scale. This STEAM kit for kids includes an activity book packed with 20 experiments specifically developed to be performed with tiny tools. As they experiment, young scientists will learn about a wide variety of topics, including mathematics, optics, density, chemical reactions, and crystallization.
Tiny Science! Awarded 2018 Dr. Toy Best Picks Children's Products
Dr. Toy's (aka Dr. Stevann Auerbach, PhD) Guide offers excellent ideas for choosing new products for use in learning, after school play, and during the holidays ahead. Using the extensive criteria Dr. Toy has developed over many years, winners were carefully chosen from hundreds reviewed at toy fairs, in catalogs, and through many other sources. Criteria used are: safety, age-appropriateness, design, durability, lasting play value, ecological, cultural and ethnic diversity, good transition from home to school, educational value, learning skills, creativity, improvement in the understanding of the community and the world, good value for price, and, naturally, fun.
Making Science Fun!
Since 2004, SmartLab Toys has been one of the leading designers of educational toys for children ages six through fourteen. We believe children learn best through hands-on exploration and discovery. That's why we embrace the STEAM approach by producing innovative toys that provide experiences and experiments in chemistry, measurement, engineering, electronics, and physics. Our toys allow children to add their individual insights, problem-solving skills, divergent thinking, and perseverance to their play as they learn and practice real-world skills and concepts.