---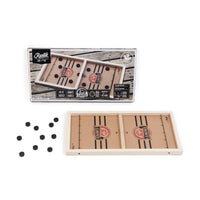 This is the exact same game you have seen on Tick Tock and other social media.   Made in Canada, this is by far, the best quality Sling Puck game you can buy.    We have sold HUNDREDS.  Trust us to get the real deal!
2 Players
One of the most famous game in North America

Handmade in Canada

Size ~12" x 24"inches
We are an OFFICIAL retailer of Rustik games.  This is the genuine Fast Sling Puck game, MADE IN CANADA!  
This package maybe shipped within original retail box due to it's dimensions.  If you want this wrapped in shipping kraft paper to disguise (ex: If this is a gift), please put notes in the order.   Risk to this is paper may rip and along with it, the waybill information.