---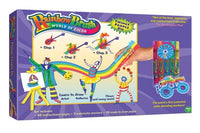 Sale
Overview
Create vibrant designs and dazzling images ina single stroke.

Fun and Easy step by step instructions!  Blend beautiful, bright colours like a pro!
No more Paints, brushes or mess - just the all in one Rainbow Brush Markers!
1) Connect any number of markers in any combination.
2) Blend with two, three or more markers
3) Create colorful artwork in a second.
"Oner of the best, ingenious and coolest toys of the year." Washington Post
The worlds FIRST patented color-blending markers!
Ages 5 to 9 years old.   
Packaging shown may differ per region.