---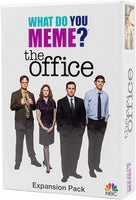 Sale
That's What She Said: The gloves are about to come off. Now's your chance to meme Michael, Dwight, Jim, Pam and more faves. Just don't upset Prison Mike.

I'm A Little 'Stitious: This game was created for ages 17+. It is NOT intended for children. There are some things you just can't unhear. Trust us on this one.

What's Inside: 50 brand new caption cards and 30 photo cards to be added to the core game.

Don't Forget The OG: *Requires What Do You Meme? Core to play

More Fun this Way: Did you know that we make other awesome games? There's a lot more fun including tons of expansion packs for What Do You Meme?, a custom storage box for all your cards, as well as new LOL-worthy adult and family games!

Designed for 17+: This expansion pack contains mature content and is designed for ages 17+. Encouraged to be played with 3+ players.