---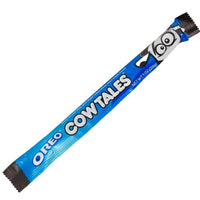 ​Cow Tales® made with OREO® cookie pieces ​are a true twist on a classic.  Priced per each.  1oz pieces.

​Cow Tales® are chewy candy snack sticks made of caramel and filled with cream – Not made from real cows' tails. Original Caramel Cow Tales® come in the standard 1 oz. stick size as well as smaller Cow Tales®​ Minis.
Original Caramel Cow Tales
®
 were introduced by 
Goetze's Candy Company
 in 1984. They are made from the same secret family recipe used to make Goetze's 
Caramel Creams
® (a.k.a. "Bulls-Eyes
®
"). Cow Tales
®
 were named in correlation with "Bulls-Eyes
®
," maintaining the cow theme used to promote Goetze's dedication to making caramel with quality ingredients, including real milk.
To keep the name from being taken literally, Goetze's used "Tales" instead of "Tails." Alluding to whimsical and nostalgic children's stories, since this brand is a more light hearted and fun rendition to Goetze's Caramel Creams
® brand
. In addition, the image of a cow jumping over the moon - an allusion to the "Hey Diddle Diddle" nursery rhyme - was added.
In 2016, a new face and mascot of 
Cow Tales® was introduced,
 Duke the Cow!