---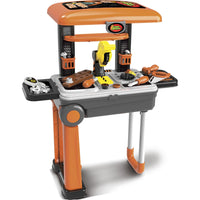 You never know when a pipe will burst or something needs fixing around the house. Have the handy Tool Set travel case ready to go as it quickly transforms into a 4-legged work surface, 
keeping tools and construction equipment accessible. Self-adhesive 
tickers are included to personalize the inside of the working area. Plastic case expands from 9.5 x 4 x 15 inch tall to 21 x 9.5 x 20.5 inch tall.