---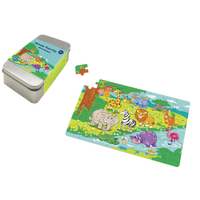 Sale
HIGHLIGHTS:

Oversized, thick wood pieces for easy handling and durability.

Bright colours

Numbered pieces on back in case it can not be solved easily.

Pieces fit very nicely.

Comes in Tin for easy storage

~10 inch x 6 inch
Cars, planes, trains... all modes of transportation are depicted in this portable puzzle. Thick wooden puzzle pieces are numbered 1 through 48 on the back of each piece so if the puzzle image cannot be solved, simply look on the backs to help figure out the puzzle piece placement!