---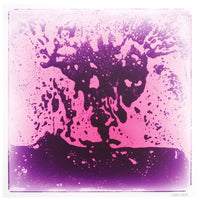 Sale
These liquid floor tiles also stimulate sensory and perceptual development
Each of these unique tiles is filled with the perfect match of colour and liquid to create an astonishing display of bubbles, streams, and pools that react to your footsteps.

It's like surfing on the ground! For an even cooler effect, balance your Spooner Board on it!

Create unique, interactive play spaces in your retail space, toy shop, art room, kids room, bathroom, den, basement- It will enhance every space! This amazing tile mesmerizes kids and grownups.

Put the tiles in front of the sink to add a thrilling twist of excitement to dish washing, or keep kids busy entertained while brushing their teeth. Try setting them up in a reading nook or play area.
Set one foot onto one of these tiles and you'll be mesmerized for hours!
These liquid floor tiles also stimulate sensory and perceptual development
Bright cosmic liquid color that moves with every step, jump, dance, or hop
Encourages cause-effect learning, sensory exploration, calmness
Colour, design, and play combine into one astonishing experience
Perfect for the playroom, living room, or anywhere you want
A powerful and beautiful way to enhance your child's environment
Includes one tile
Tiles each measure 19.5 x 19.5 inches
Special polymer material - Abrasion-resistant,
Super durable tile!
Maximum environment temperature of 140 degrees Fahrenheit
Tile features an Anti – slip back side pad!
Tile is leak-proof with a non-toxic cosmetic liquid inside
These tiles are sold individually