---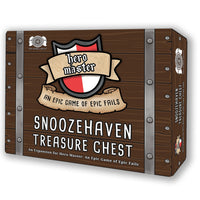 Sale
Return to Snoozehaven and make some new friends… and some new enemies in this expansion for the calamitous quest game, Hero Master: An Epic Game of Epic Fails. Experience new monsters with new skills and combos, and even try out some monstrous heroes of your own!
This expansion (which needs the core game to play) contains 76 new cards including 2 new classes: Bumnote the tone-deaf bard and Sir Neville the pretentious Paladin.
4 new races, Dood the half-hearted Half Elf, Slybogey the megalomaniac Goblin, Bulge the Ogre who's all muscle and no hustle, and Uglug the heavy-handed Half Orc.
Also several new locations to explore, treasures to find and scenarios to complete.