---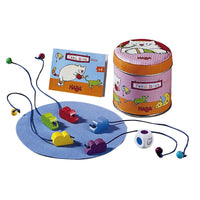 Catch me
A catching game for 3 - 6 players ages 4 - 99.
Contents:
5 mice
1 color die
1 felt circle
Aim of the game:
With danger in sight, who will be as quick as
lightning and save their mouse from the cat?
Preparation of the game:
Spread the piece of felt out in the center of the table. One
player takes the role of the cat trying to catch the mice. In
preparation, the 'cat' player takes the die and the tin tumbler
as the mice trap.
The other players each take a mouse and place it in the
middle of the felt, clutching the end of the tail.
How to play:
The cat throws the dice several times. The color that appears
on the die determines which mouse the cat must trap with
the tumbler. Be careful! All players need to see the die.
8
If the cat appears on the die, the cat can catch any color he
chooses. Players must withdraw their mice rapidly from the
felt circle in order not to get caught.
Any mice caught have to drop out.
If the die shows a color, only the mouse of that color can
run away; all others must stay. Watch out! Any player who
mistakenly pulls their mouse off the felt has to drop out.
The mice not caught are placed on the felt again and a new
round starts.
9