---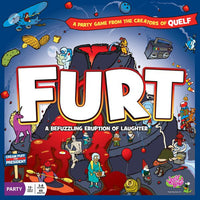 Sale
From the makers of Quelf comes another party game designed to make you do more wacky things in sixty minutes than you'd normally do in day – heck, maybe an entire week. In FURT, you race against other players to try to be the first one to jump into a volcano. Why? Glory, fame, hot feet – whatever the reason, you're doing it.
You move ahead in the game by completing actions in six categories, possibly making up outrageous lies about yourself, freshening up with a quick shower in your host's bathroom, or acting out the words "butter patty". The categories are:
• The Volcano Has Spoken – Roll a black and you'll be subject to the whims of the volatile FURT volcano, which is sometimes angry, sort of bossy and always a bit weird.
• Straight-Faced – Can you keep a straight face while your friends and family members assault you with funny words? You're about to find out (psst: fluffer nougat, pussy willow, burp nut) whenever you roll a red.
• Guess What? – The volcano is chock full of funny words and you may find yourself acting out the phrase "butter patty" or drawing an invisible jet to get your friends to guess your word when you roll a green.
• Truth or Fiction? – Roll a purple and you reveal something about yourself. Is it truth or fiction? Only you know. The more people you fool, the more you move ahead!
• You Are... – Not yourself when you roll a yellow. Maybe you are having an identity crisis, who knows? Just be who the card says for thirty seconds and you can move ahead.
• What The?! – When you roll a blue, you'll get a TOP SECRET card that you must perform before your next turn. It could be annoying, outlandish, confusing, obnoxious or just plain freakish. You have been warned.