---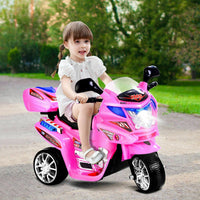 Key Features
●

 

Easy to Ride:

 

Your child can control this motorcycle easily on his or her own with a foot pedal for acceleration. All you need is a smooth, flat surface to get your kids on the go! The 3-wheel motorcycle designed for children and young children is smooth and easy to ride.
●

 

Multi-functions :

 

1. By pressing the built-in music button and the horn button, your child can listen to music while riding. 2. Functional headlights make it more practical. 3. Equipped with on/off and forward/backward switches for easy controlling. 4. You should open the back storage compartment and place it in the toys you need.
●

 

Rechargeable Battery:

 

Comes with a charger, your kid will ride it with a rechargeable battery a number of times.
●

 

Full Enjoyment:

 

When this motorcycle is fully charged, your child will continue to play with it for 40 minutes, making sure your child enjoys it abundantly.
● Great Gift for Children:

 

This easy-to-drive motorcycle is the best gift for your children's birthday, Christmas. Great for both outdoor and indoor play and can be easily used on any rough, flat surfaces like wood or cement floors. They will love it!
Description
This kid's motorcycle ride is fantastic and functional for your lovely kids.
Its 3 wheels design makes it safe for your children to play and its speed can reach up to 1.86 mph. It has a built-in musical and horn sound button that can attract kids' attention. And, its storage compartment provides storage space where you can put on some necessary items. Children can control the motorcycle forward or backward by a foot pedal. Besides, its durable plastic body design can extend the life of the motorcycle.
It is a perfect gift for your kids! Don't hesitate to buy one now!
Note: Please charge the car termly after driving it and also charge it regularly if you have not driven it for a period of time so that battery will last for a long time.
Brand new and high quality
Continuous fun for about 40 minutes
The durable plastic body design
3 wheels design
Working headlights
Built-in musical and horn sound button
On/Off switch
Forward/Backward switch
Foot pedal control
Rechargeable car battery and charger
Storage compartment provides storage space
Suitable for children aged 37-84 months
Assembly required.

Comes unassembled.
Box is opened.