---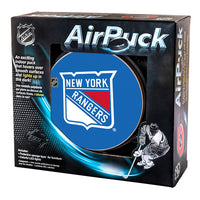 An exciting Hockey AirPuck that hovers over a curtain of air.
NHL licensed in all the Canadian hockey teams and the most popular US Teams.
Watch it easily float over smooth surfaces.
It even lights up and glows in the dark!
For use on indoor and flat surfaces such as hardwood, vinyl and parquet.
The sturdy foam outer protective layer will protect the AirPuck from scuffs and makes it more fun to slide around the room.
Features & Specs
Product dimensions 7.25" x 2.5"h
Hovers over smooth surfaces
Requires 4 x AA batteries (not included)
Thick foam bumper around puck that protects walls and furniture
Bilingual packaging
NOTE: Stock coming soon!  Taking pre-orders now.