---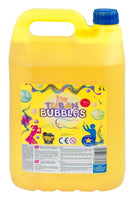 Introducing Tuban Bubbles!  Bubbles Refill 5L! 
Assorted colours
FROM TUBAN:
SOAP BUBBLE LIQUID 5 L


In the art of blowing bubbles, liquid is the most important thing. 
The quality, durability and size of the bubbles depend on it.
 We are proud to present our flagship product to you. 
Unrivalled, powerful liquid with a very high capacity.
For years we have been producing the liquid based on a unique recipe which,
combined with TUBAN brand accessories (wands and rings),
allows you to create amazing bubble masterpieces. Because, you know, the bubble is better when it is bigger 
Our liquid can be used by both amateurs and professional bubble makers. 
You can use the liquid for closing in a bubble or for playing in the open air.
You can also use it for generators, swords or as a refill to small bottles.
The liquid has been tested by thousands of people around the world. 
Everyone who had a chance to try it in action had a lot of fun.


With our liquid you can:
- create giant soap bubbles
- shape bubble tunnels
- use it for all kinds of bubble toys - guns, swords or bubble generators
- make bubble tricks
- create a magical atmosphere and great fun

Tuban is the best soap bubble liquid in the world and holds two Guinness world records for the largest number of people in one bubble (182 people) and the most number of bounces of one soap bubble.


Made in the EU.